46" Wide x 35.5" High Gate Kit for Vinyl Deck and Railing
Quality:
The material used in our gate kits have UV inhibitors to prevent from turning yellow over time. PVC materials have impact modifiers for long term durability and added strength. Only the highest premium virgin PVC vinyl is used. Low maintenance and will never need painting or staining.
Vinyl Railing Gate Kit Contents:
4 gate rails (3-1/2" wide), 2 caps, 1 pack of stainless steel screws, balusters and easy step by step installation instructions.
Baluster Options:
Square, Rectangle (7/8 x 3 inches), Colonial, Classic, Victorian, Twist
Colors:
White
Height:
35.5 inches
Width:
46 inches
Specifications & Drawings:
PDF file click here
Single Gate Width:
Our 34" wide railing gate kit will fit a 36" wide opening and a 46" wide railing gate kit will fit a 48" wide opening. The two inch difference allows for a gap between the latch and hinges (if using our Kwik Fit Hinges only subtract 1 1/2 inches).
Double Swing Gate Width:
To calculate the width for double swing gates, take the measurement from inside to inside of the two posts. Subtract 2 1/2" (if using our Kwik Fit Hinges only subtract 2 inches) and divide that number by two. This should provide the width for each gate. For example, if your opening is 70 1/2" you would subtract 2 1/2" and divide by two. Each gate would be 34" wide. We recommend using the Lokk Latch when installing a vinyl double swing gate.
Custom Gate Width and Height:
Simply tell us the gate dimensions you want. Don't forget to subtract for the latch and hinge allowance.
Note:
Gate Hinges and Latch are sold separately.
Gates usually ship within 1-3 business days.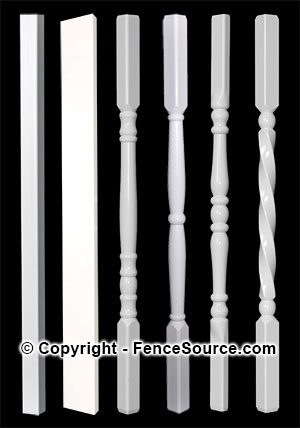 Gate Baluster Options: Square, Rectangle, Colonial, Classic, Victorian, Twist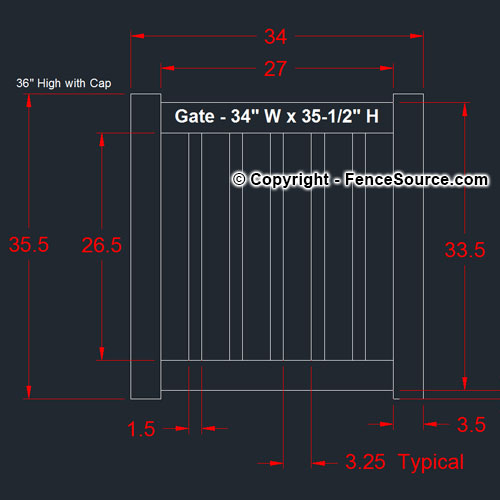 Drawing illustrates a gate 34" wide x 35.5" high
Gates can be special ordered up to 41.5" high in square or colonial balusters. Please call or email for pricing.