Kid Nick Table: Childrens picnic table

The Kidnic Table is made of a durable plastic resin, it is lightweight - just pick up and go, no assembly is required, and your kids can have fun year round! Unique space savings design - easily transported. Easily folds down when not in use. Intended for children ages 2-8.
Kidnic table is great for:
• backyard
• bedroom
• beach
• camping
• patio/deck
• playroom
• picnic
• park
• waiting room
• lunch room
• day-care
• kitchen
• church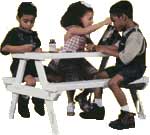 Kids not included!
Assembled Picnic Table Dimensions:
Height: 21.5"
Width: 28.75"
Length: 36"
Weight: 23 lbs. (Box dimensions 6" x 30" x 38")