Fairfield Window Planter Box by Mayne
Why limit your style to indoors? Mayne planters will transform your property into a personal retreat with outdoor flair. WATER RESERVOIR - Take the guesswork out of watering. Plant maintenance is a breeze with Mayne's Sub-Irrigation System. The built-in water reservoir encourages healthy plant growth by allowing plants to practically water themselves.
Sizes:
3 foot, 4 foot and 5 foot long
Material:
High Grade Polyethylene
Available Colors:
White, Clay and Black
Manufacturer's Warranty:
15 years
Includes Wall Mount Brackets

Maintenance free Never needs painting.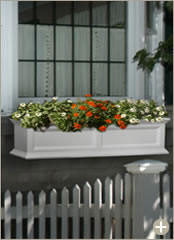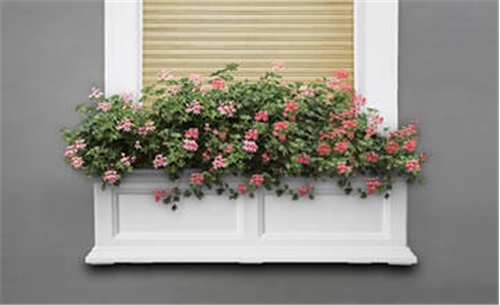 White 36" Window Planter Box
36" W x 11" D x 10.8" H • 6.75 gallon soil capacity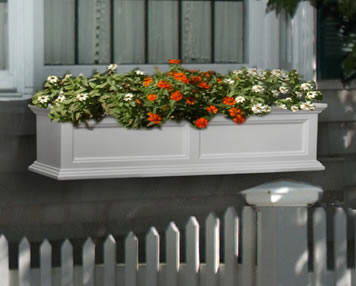 White 48" Window Planter Box
48" W x 11" D x 10.8" H • 9.5 gallon soil capacity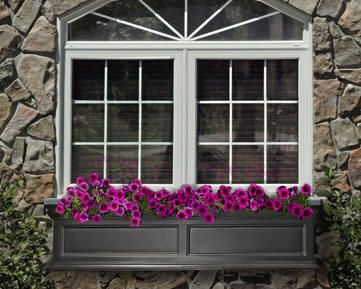 Black 60" Window Planter Box
60" W x 11" D x 10.8" H • 13 gallon soil capacity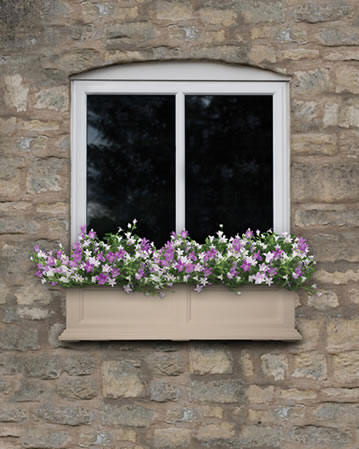 Clay Window Planter Box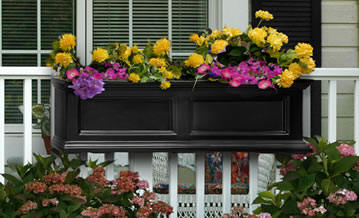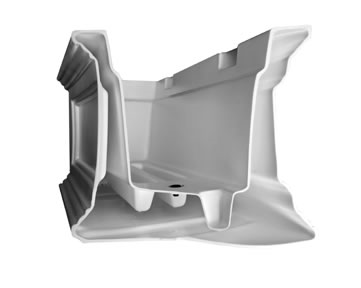 Side view of the Window Planter Box
Resevoir stores water for thirsty plants and help prevent root decay.
Installation Instructions:

Tools Required: Tape measure, Cordless drill, Phillips drill bit, & level

Fairfield Window Planter Installation Summary (see instruction sheets for specific details):
1. Locate the desired mounting position under your window.

2. Mark off the bracket locations which are mounted at 12 inch spacing.

3. Ensure the brackets are level.

4. When securing to a masonry wall (concrete or brick) you will need to pre-drill the holes. An added suggestion would be to purchase a masonry type screw (i.e. Tapcon screws).

5. Depending on the intended use of the window planter you will need to drill a drainage hole on the back side or in the bottom.
a. For use with plant trays we recommend drilling a ½" hole in the bottom.
b. To take advantage of the sub-irrigation system we recommend drilling a ¼" hole on the back side of the planter (about 2 inches off the bottom).

6. Set the window planter in place on the bracket (flip inward to catch the lip of the brackets and rotate into place).

7. Fill the planter with potting mix and plant flowers as desired.